Colorado Mountain Home Posters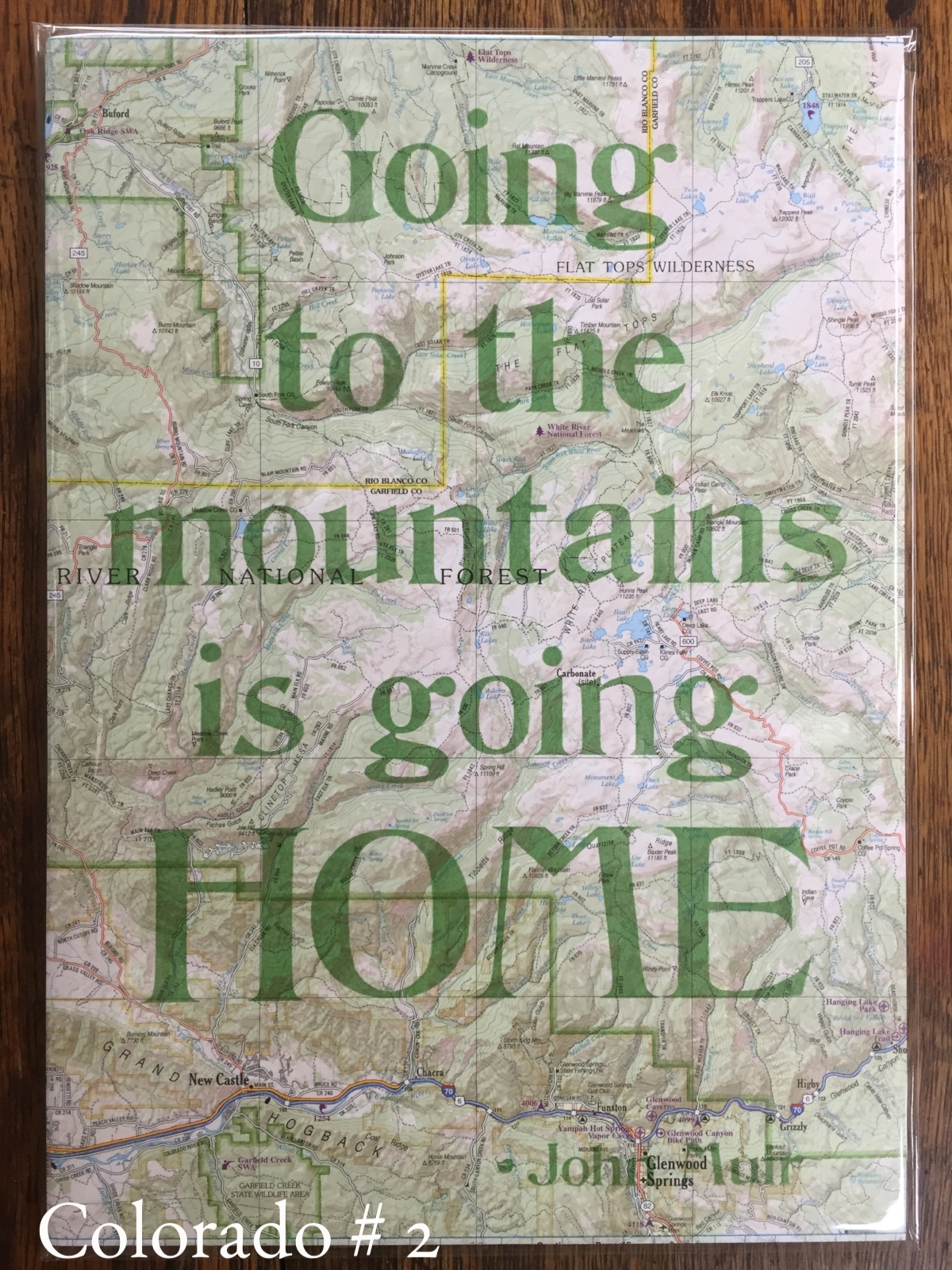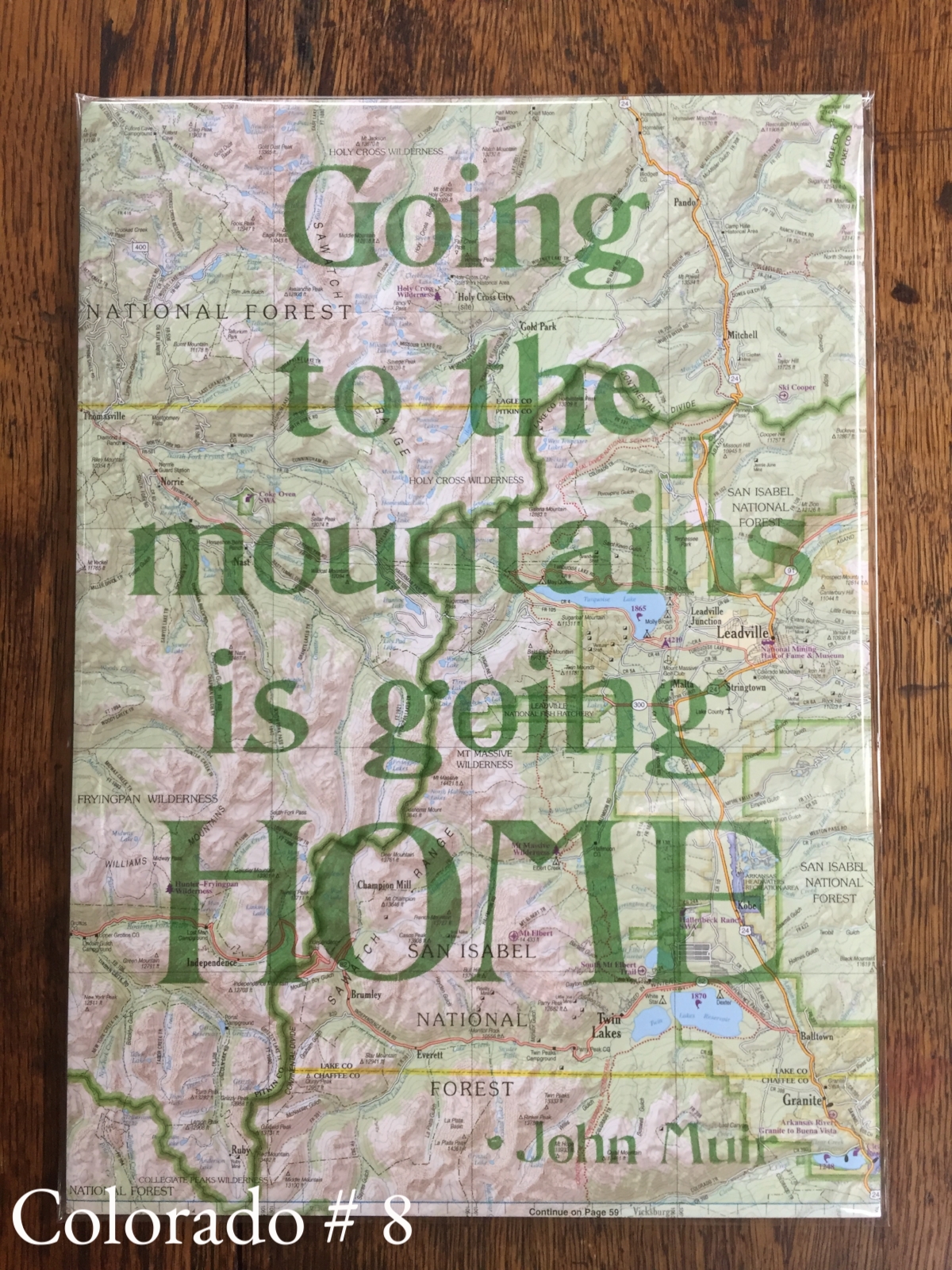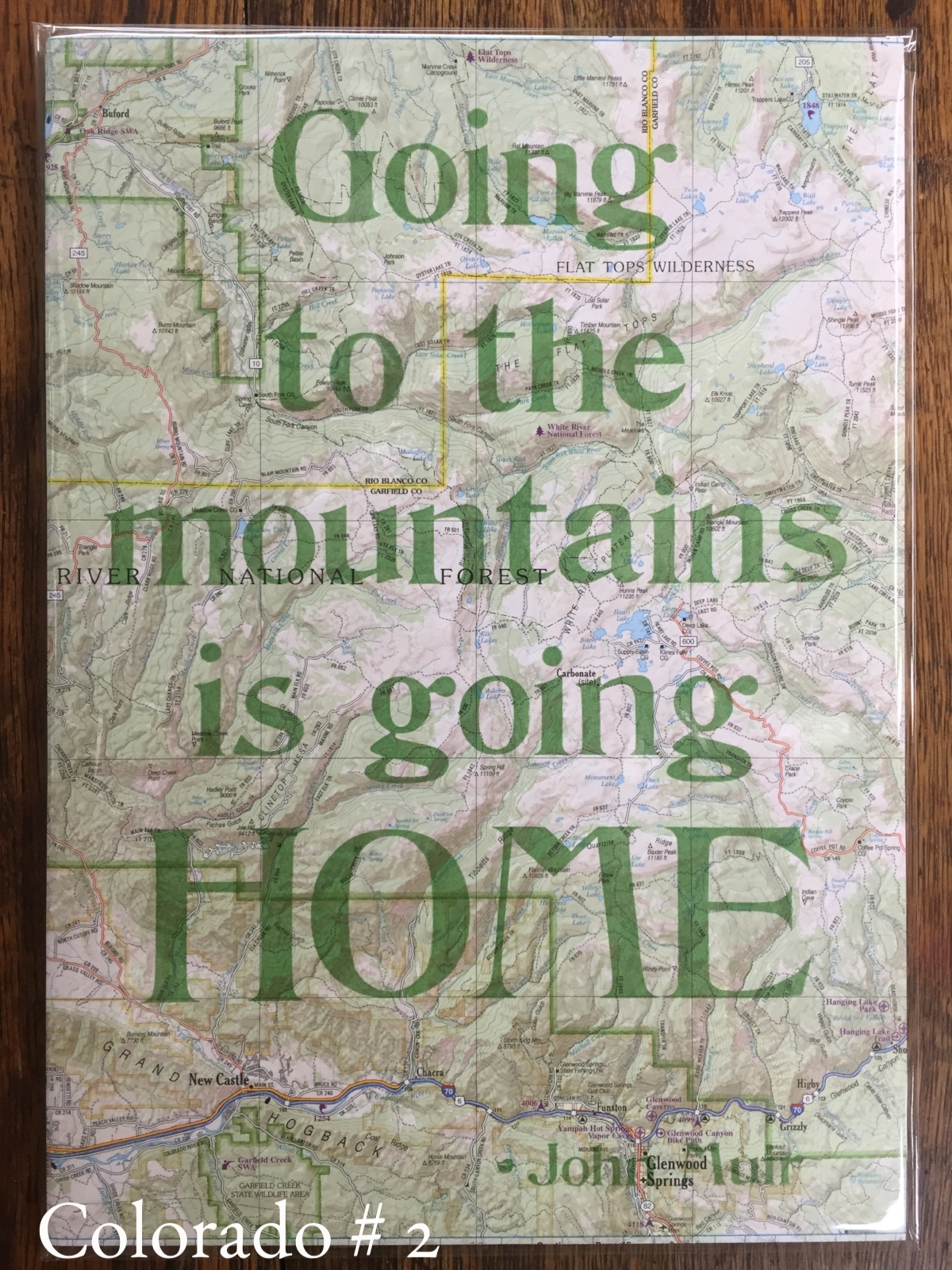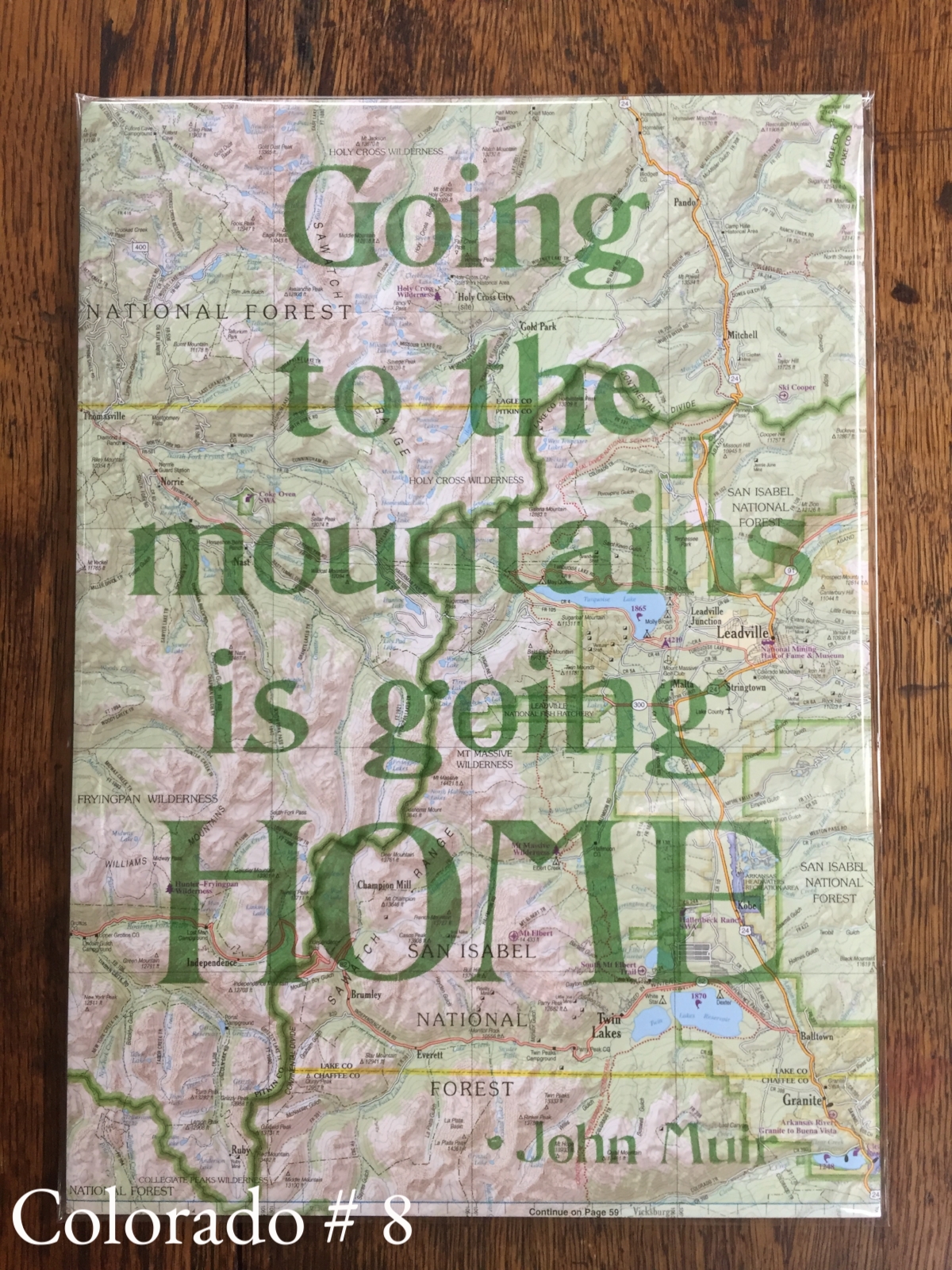 Colorado Mountain Home Posters
A beloved quote by John Muir, letterpress printed with historic wood type on Colorado topo maps.
We love living in mountains, and to honor the beauty of Colorado's mountain landscapes we decided to create a poster with one of our favorite quotes by American naturalist John Muir: "Going to the mountains is going home." He wrote that in 1875, and it's still true today.
Each poster (about 10" x 14") is letterpress printed with large wood type from our collection, in transparent green ink, on official topographical map sections that feature the Colorado mountains. Each page is unique, with a different bird's-eye-view of mountain sections from the Rockies to the San Juans. (See below for more info on what areas each poster covers.)
Do you love mountains? This poster is for you and for our beautiful land!
Here are some areas that each map poster covers:
Colorado Mountain Poster #1 ~ White River National Forest, Vail, Arapaho National Forest, Wolcott, Minturn, Holy Cross Wilderness, Eagles Nest Wilderness
Colorado Mountain Poster #2 ~ Glenwood Springs, Colorado River, Flat Tops Wilderness, White River National Forest, Grand Hogback
***SOLD OUT*** Colorado Mountain Poster #3 ~ Roosevelt National Forest, Estes Park, Indian Peaks Wilderness, Allenspark, Front Range, Longs Peak, Rocky Mountain National Park
Colorado Mountain Poster #4 ~ San Juan National Forest, Rico, Dunton, Uncompahgre National Forest, Telluride, Silverton, Lizard Head Wilderness, Tacoma, Weminuche Wilderness
Colorado Mountain Poster #5 ~ Rio Grande National Forest, San Juan Mountains, San Juan National Forest, Weminuche Wildnerness, Continental Divide Trail, Howardsville, Beartown
Colorado Mountain Poster #6 ~ Aspen, Snowmass, White River National Forest, Maroon Bells--Snowmass Wilderness
Colorado Mountain Poster #7 ~ Gunnison National Forest, West Elk Mountains, Crawford, Paonia, Raggeds Wilderness
Colorado Mountain Poster #8 ~ Leadville, Holy Cross Wilderness, Mt Massive Wilderness, Twin Lakes, Fryingpan Wilderness, San Isabel National Forest, Continental Divide Trail
***SOLD OUT*** Colorado Mountain Poster #9 ~ Pitkin, Sawatch Range, Collegiate Peaks Wilderness, Continental Divide Trail, Taylor Park Reservoir