Autumn greetings to you all!
Here in the Blue Ridge Mountains of Virginia, we are filled with gratitude today for the return of the Sun. After days and days of rain, our star broke its bright yellow yolk all over the field this morning, and we saw crystal-blue sky for the first time in 10 days. Thinking especially of folks in South Carolina, we send good thoughts for peace and safety for all who have been affected by flood waters recently.
These chilly days and night have put us in an autumnal mood, and we're eying the calendar-full of celebrations that are just around the corner! With this in mind, we've been printing and packaging our beautiful letterpress printed holiday cards, and are offering them to you loyal Press Newsletter Subscribers first, before we deliver the cards to area markets later this week.
As always, these items are one-of-a-kind and limited in edition. Let us know if you'd like to reserve your holiday cards and gift tags asap!
With many thanks, and all best to you!
St Brigid Press
mountains-and-stars print from a hand-carved block by Emily Hancock
letterpress printed with vintage wood & metal type on our foot-treadled press
thick 100% cotton paper
blank white inside
single card (with envelope), $4.95
set-of-6 cards (with envelopes), $23
"Peace" greeting, printed with vintage metal type on our treadle-press
medium-weight metallic linen paper, in emerald-silver or crimson-silver
blank white inside
set-of-6 cards (with envelopes & address labels), $15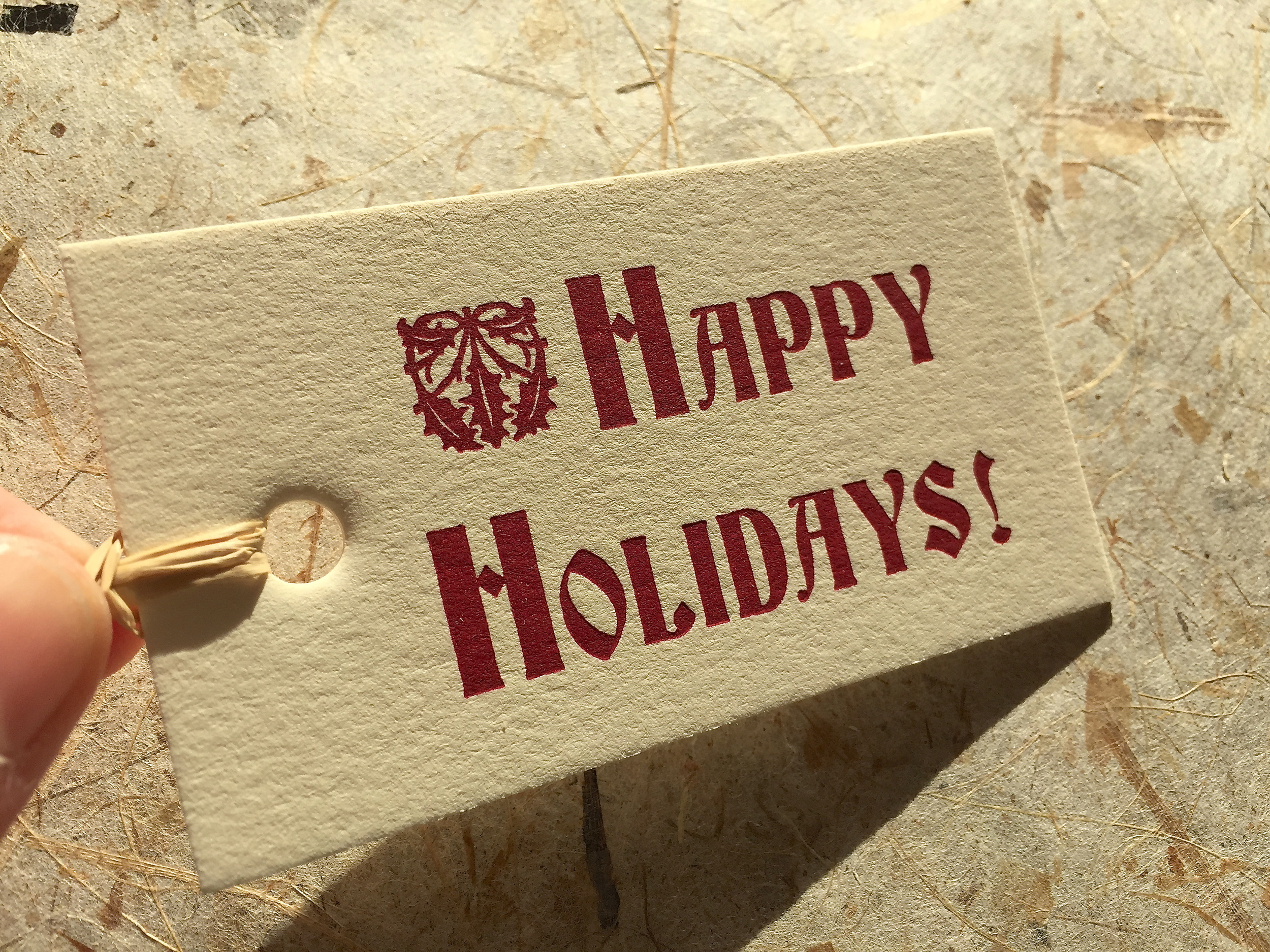 letterpress printed with metal type on our foot-treadled press
extra-thick 100% cotton paper, in a soft cream
holiday greeting on front, "To:" & "From:" on back
raffia tie for attaching to gifts
choose from one of 6 designs, or an assorted set
$8.95 for a set-of-6 tags